Biking from the Pyrenees down to the beaches of the Mediterranean Sea is truly a great little adventure! With the help of modern ebikes you will be travelling through a wild and beautiful landscape known by few people. Many of these areas has been populated for thousands of years, you will pass many old buildings and churches in the middle of nowhere.
The combination of the mountain views, beautiful old villages, big forests, the historical city of Girona and finally reaching the beach makes this a complete week of experiences!
Season
March to October
Highlights

Spectacular mountain views
Girona – our favourite city in Spain
The beautiful Green Way (old train line) between Olot and Girona
Ending on the beach in Costa Brava
Difficulty


MTB Medium. Read more about the difficulty.
If you want an easier or shorter challenge, we have a Touring version of this tour. It uses the same hotels but the biking is easier. There is also a long-weekend option available. Read more.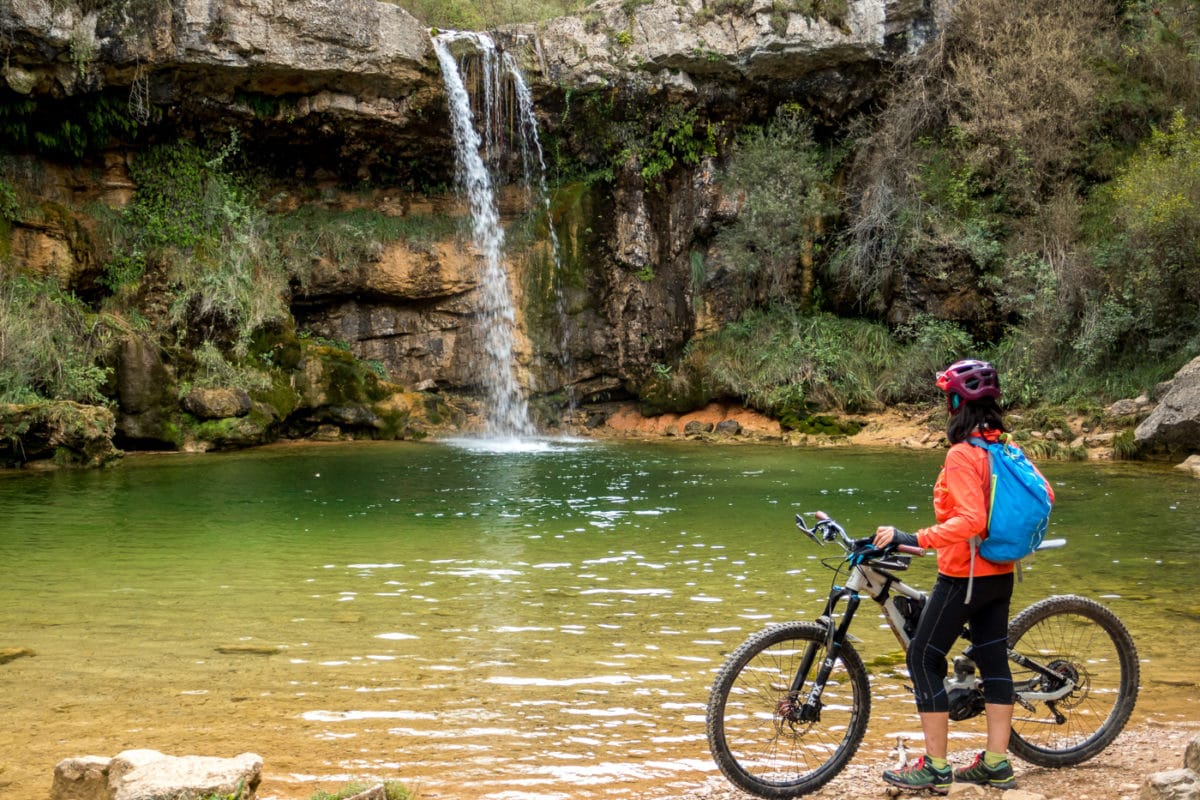 Day 1 – arrival
Arrival to the Pyrenees, Barcelona is the closest airport.
There is a bus that you can take from the city or we can arrange for pick-up at the airport. If you are 4 or more people, we recommend that we pick you up.
Check-in at your hotel in the small city of Berga.
3* hotel in Berga
Day 2 – around Berga
Breakfast (included).
We come to your hotel with your bikes, GPS, maps and roadbook.
From here we start the tour of the day. Today one of our guides will ride together with you to make sure everything works fine with the bikes and to show you how the GPS works.
The tour then takes you up to the beautiful mountains above Berga. You will pass old country houses, see a lot of vultures and in general a beautiful countryside.
At the end of the day you return to your hotel, park your bikes in the garage and put them to charge.
Today we have prepared a small pick-nick to bring with you for this tour.
Bonus! During spring you can visit a tulip farm in the village of Capolat! We will help you to set up the visit if you are interested.
35 km, +800 meters
3* hotel in Berga
Day 3 – wild Catllaràs
Breakfast (included).
After breakfast we pick you up with our van and drive you 25 minutes to your starting point of the day, the village of Borredà.
From here you ride through one of the most remote and wild areas of Catalonia, passing by old churches, small rivers with beautiful waterfalls and big views toward the high mountains to the north. At the end of the day you roll in to the small city of Ripoll. This village has a beautiful old Monastery of Santa Maria de Ripoll, a must to visit! The village center has several restaurants to choose from.
If you want we can prepare a pick-nick for you to bring with you for this tour.
36 km, +750 meters
2* hotel in Ripoll
Day 4 – Ripoll to Olot
After breakfast (included) you head out for another beautiful day. You start by following the old train line that was used to bring down coal from the mountains.
In the village of Sant Joan de les Abadesses  there are several bars to have a break, maybe a second morning coffee? From here you follow the old road to reach a mountain pass. Here starts the wilder part of the day when you follow a gravel road in sometimes bad state down towards the valley of Bianya. Here you again ride out on and old abandoned train line and have easy and joyful riding almost all the way to your hotel. Almost? Yes, there is one part where you will have to cross a river, pushing the bike…. Take care not to get the motor wet.
In Olot you check into your hotel and park your bikes, charging them for tomorrows adventure.
42 km, +700 m
3* hotel in Olot
Day 5 – Olot to Girona
Breakfast and off for another beautiful day on the bike! Today is an easier day since you follow the clearly marked Green Way (old train line) down to Girona. You pass many villages on the way, all offering bars just next to the bike path.
You reach Girona early in the afternoon and have the rest of the day to discover this beautiful city, our favourite city in Spain. Don't miss out walking on top of the old city wall! If you are interested in a city day, consider staying one day extra here. Girona is like Barcelona 25 years ago.
60 km, +200 m
3* hotel in Girona
Day 6 – Girona to the beach
After breakfast it's time for the last stretch down to the coast. Today you will venture out on an another beautiful adventure biking through the Gavarres mountains that lays between Girona and the coast. These mountains are home to many beautiful villages and
We will be waiting for you at the hotel to pick up the bikes and leave your luggage.
50 km, +600 m
3* hotel by the coast
Day 7 – Good bye
After breakfast the tour ends.
To return to Barcelona you can easily take the bus to the city or straight to the airport.
If you prefer a taxi we can book that for you.
General information
From March till end October. August is a complicated month with fully booked hotels, it is important to book well in advance.
The tour is possible to start any day of the week.
The closest airport you can fly into is Barcelona El Prat (BCN).
There are buses from Barcelona to the city of Berga where we pick you up.
We can of course arrange for you to be picked up at the airport.
Parking possibilities at the hotel.
Included
Hotels
Breakfasts
Luggage transport to your next hotel
Map, tourist information and route descriptions in English
GPS with track
Welcome meeting and guiding first day
Tourist taxes
Service-hotline (also at weekends)
Not included
Transfer to the start of the tour
Transfer from the end of the tour
Bike rental
Lunch and dinners
Extra nights
Extras
Bike rental – read more
Picknics – we offer to prepare you lunch for some of the days where you don't pass by restaurants.
Airport-pickup – between 150 € to 210 € depending on the size of your group.
Airport-drop-off – between 180 € to 230 € depending on the size of your group.
Guide – add a guide to join you for your days of biking, read more.
Bike rental
For this tour we recommend you to use a modern, full suspension ebike. You can come with your own bikes or rent from us, we then supply you with the bikes at your hotel the first day and pick them up at your hotel the last day of the tour.
The price is 349 €/person for the complete tour. Read more about our bikes.
Price and booking
| Persons | Price |
| --- | --- |
| 2 | 735 € |
| 4+ | 595 € |
Price per person, sharing double/twin room. Tripple rooms available on request.
Extra for individual rooms: 210 €
Please note: The price is slightly higher during high season. August is complicated so please contact us well in advance to arrange this.