The sunny southern parts of the Pyrenees have some amazing routes with big landscapes, beautiful villages and living history. The people are welcoming and the biking is fun and varied. This is where we have chosen to live and when you have spent some days here you will understand why – this is an undiscovered paradise!
The first day you ride with one of our guides, making sure you get to know your bikes and the GPS. Every day you will have the option of an easier or a harder route – your guide will help you select.
Season
March to November
Highlights
Beautiful days of biking, 95% on gravel or asphalt roads with very little traffic
Passing by small villages and old farm houses
The abandoned villages of Peguera and Bonner
Possibility to eat dinners in Guide Michelin recommended restaurants
3 or 5 days of biking
Difficulty


This tour can be done as MTB Easy or MTB Medium. This can be decided together with your guide on the first day of riding. Read more about the difficulty levels of our tours.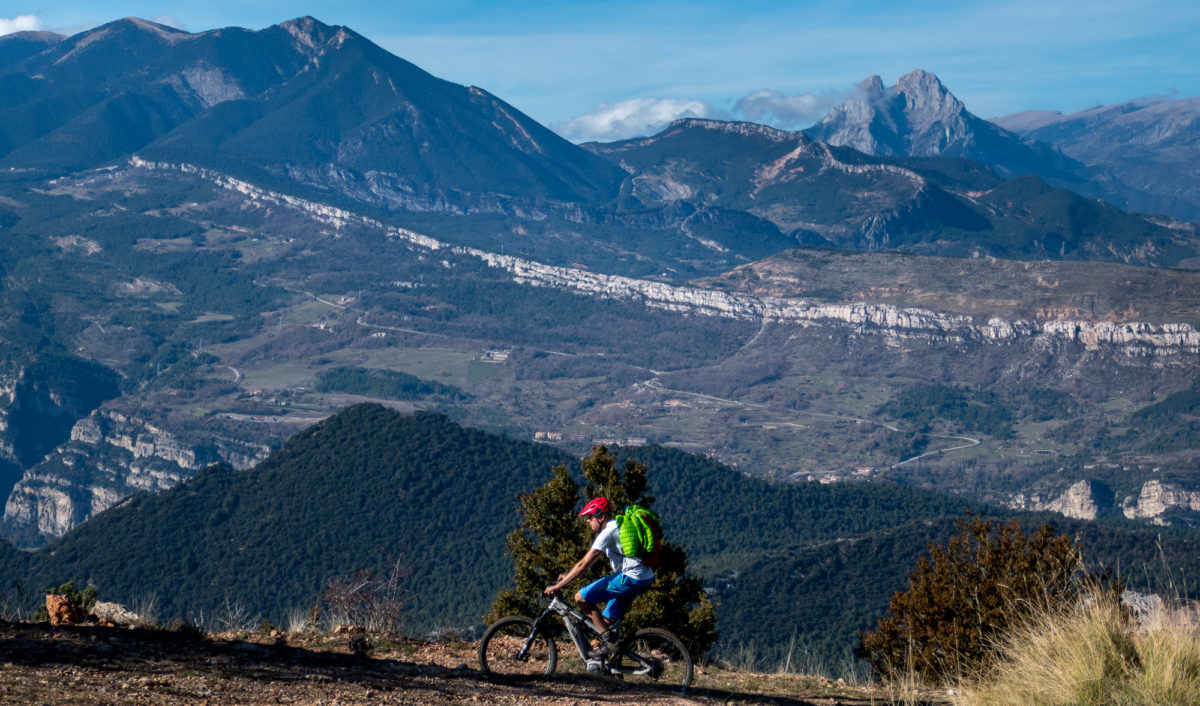 Day 1 – Arrival to Berga
From Barcelona you take the bus to Berga where you will sleep the first two nights of your trip.
(We can of course pick you up at the airport or in the city of Barcelona, see below for price.)
3 * hotel in Berga
Day 2 – South of Berga
Breakfast (included).
Today you bike with a guide. This tour takes you out on the beautiful country side south of Berga. You will pass old country houses, see a lot of vultures and in enjoy a beautiful countryside. During the outing your guide will explain a lot about the area, show you how to use the bikes (if you have rented from us) and also explain the riding the following days.
At the end of the ride you return to your hotel, park your bikes in the garage and put them to charge.
40 km, +-850 meters
3 * hotel in Berga
Day 3 – Berga to Gósol
After breakfast you prepare your bags and check out of your hotel. Your day start with an up-lift, we pick you up and drive you to the abandoned ski resort of Rasos de Peguera at 1900 meters altitude.
With great views all around you start your biking. Your first stop is the abandoned village of Pegeuera. This beautiful place was abandoned as late as 1962 when the last mine of the area was closed.
From here the normal route continues north, passing by the dinosaurs(!) of Coll de Fumanya. In this closed mine they discovered big dinosaur fossils and they now have created a visitors center. If it is open we recommend a visit! From here you ride follow a beautiful road passing another mountain pass before reaching Gósol.
If you opt for the longer/harder route you head west, passing several big old farm houses and finally reaching yet another abandoned village – Bonner. Make sure to enter the village plaza, sit down and contemplate the life that was lived here. A few kilometers later you cross a small river and then make it the last kilometers up to your hotel i Gósol.
Easy tour: 27 km, +660 vertical meters, -1200 vertical meters
Medium tour: 28 km, +660 vertical meters, -1150 vertical meters
Long tour: 32 km, +890 vertical meters, -1340 vertical meters
NOTE – the Medium and Long tour is in a very wild landscape with some difficult terrain. No cell phone coverage. Only for the experienced biker.
2* hotel in Gósol
Day 4 – Tuixent and Josa de Cadí
A beautiful day visiting the small villages of Tuixent and Josa de Cadí. You pass below the impressive Cadí mountain range and of course with impressive views towards the emblematic mountain Pedraforca.
In Josa de Cadí you find a small cheese shop with locally made food and also a famous and price winning restaurant. If you want us to book a table for you, let us know. Just remember that you will have to make it back to Gósol as well.
After Tuixent you start a long climb up towards the mountain pass Coll de la Mola. Here the landscape opens up to the east and you see the valley of Gósol again. A long, easy downhill brings you back to your hotel.
31 km, +-1000 meters
2* hotel in Gósol
Day 5 – Gósol to Guardiola de Berguedà
A beautiful day of biking, slowly making your way eastwards to the main valley.
The normal route takes you past the village of Saldes and further down the valley before climbing over the mountain pass Coll de la Bauma. From here you have one long descent down to your hotel. On the way you will pass the medieval village of Bagà. Make sure you stop for a drink on the village plaza!
The longer route takes you around Pedraforca and again up to 1900 meters altitude. The views from here are stunning but it's a long climb! Once you reach your highpoint you enjoy a long descent down to the village of Gisclareny, the smallest village in Catalonia. You make another climb and from here you get to enjoy a nice ride down to Bagà and then down to your hotel.
Normal tour: 35 km, +800 meters, -1500 meters
Long tour: 43 km, +1100 meters, -1800 meters
We recommend that you eat dinner at the hotel – they have the best restaurant in the village.
2* hotel in Guardiola de Berguedà or Bagà
Day 6 – loop tour from Guardiola de Berguedà
Loop tour of the beautiful mountains close to the village, we will present you with several options.
2* hotel in Guardiola de Berguedà or Bagà
Day 7 – adios!
After breakfast your booked trips is over.
You can take the bus or we arrange a transfer back towards Barcelona or the airport.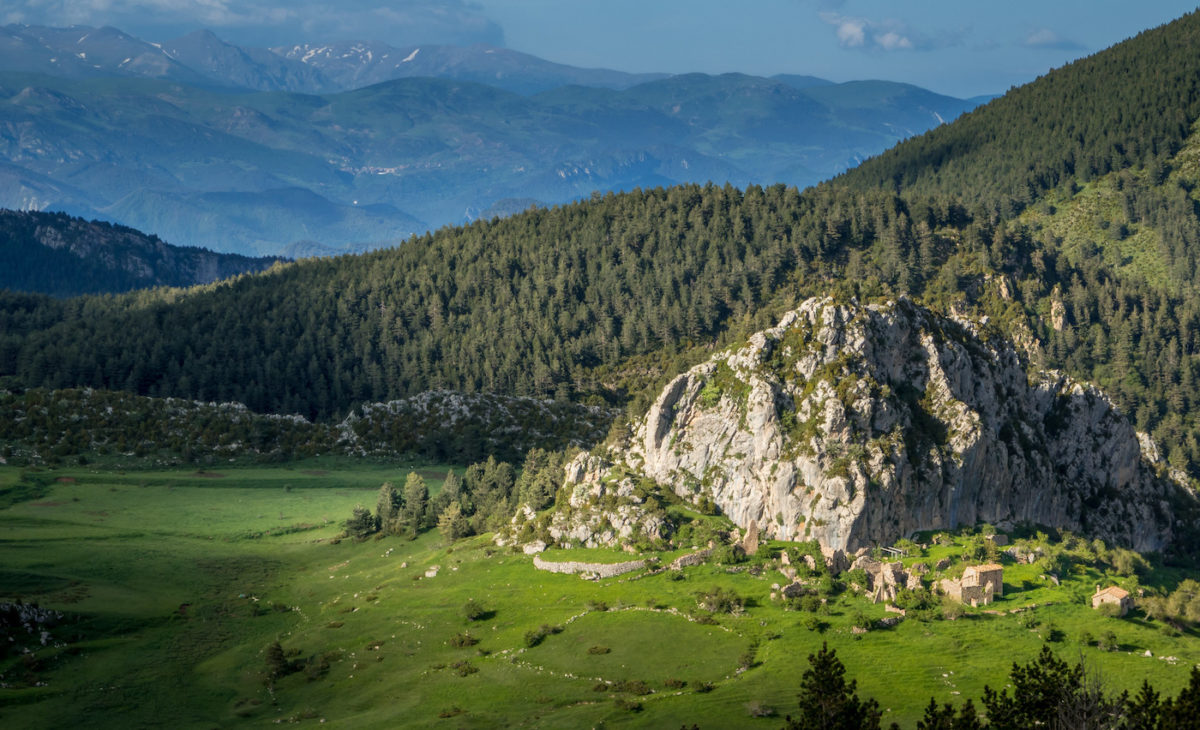 General information
Daily departure possible from March to November
August is a complicated month with fully booked hotels, it is important to book well in advance.
The closest airport is Barcelona El Prat (BCN), the big airport by Barcelona. From there you take a train to Ripoll where you will sleep your first night.
Returning to Barcelona you either take a bus from the city of or we help you with a taxi-transfer.
If you come with your own car we will help you with safe parking during your tour.
Included
Hotels (2* or 3*)
All breakfasts (Half board optional)
Luggage transport to your next hotel
Map, route descriptions and tourist information in English
Tourist taxes
Emergency contact (also at weekends)
Guide during your first day of the trip
Not included
Transport to/from the start of the tour
Extras
All dinners
Pick-up at Barcelona Airport, 180 €/taxi
Pick-up in Barcelona city, 200 €/taxi
Bike rental
Guide – we include a guide the first day. If you want your guide to join you for the whole tour we can of course arrange for this – read more
Price for 1 week
| Persons | Price |
| --- | --- |
| 2 | 695 € |
| 4+ | 595 € |
Price per person, sharing double/twin room. Triple rooms available on request. Extra for individual rooms: 210 €
Rental bike: 360 €
Price for long weekend
If you don't have a full week this trip can be done as a 4 nights/3 bike day trip as well. This includes day 1-2-3 and then a special day 4.
| Persons | Price |
| --- | --- |
| 2 | 525 € |
| 4+ | 395 € |
Price per person, sharing double/twin room. Triple rooms available on request. Extra for individual rooms: 140 €
Rental bike: 180 €
Please note: The price is slightly higher during high season. August is a complicated month so please contact us well in advance if you are interested in doing the tour at this time.
For more information, fill in the form or send us an e-mail: info@pyrenees-ebike.com